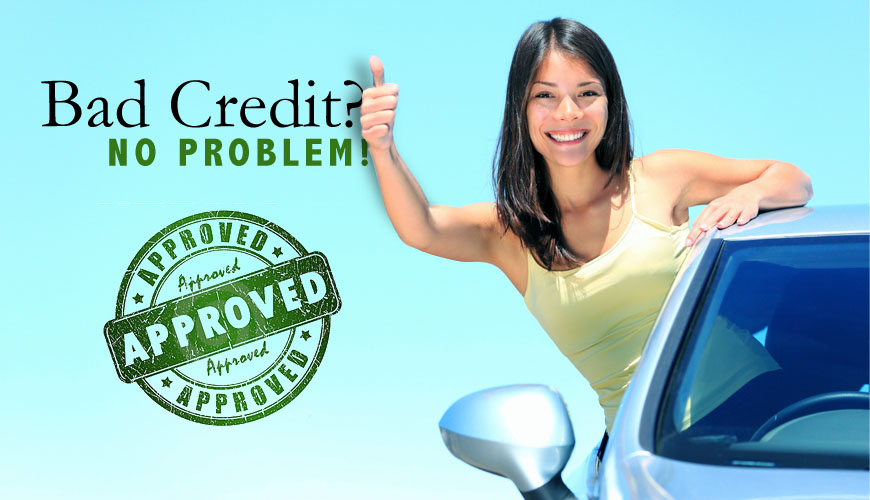 Bad Credit Auto Loan Approval!
DO YOU HAVE BAD CREDIT?
When it comes to financing, as well as everything else that we do, I am 100% on your side! There are three levels of financing: prime, near prime, and subprime. We have multiple sources and are experts in all three levels. A lot of great options are available for those customers who have great credit. We offer the most competitive rates out there. What we are really good at is helping the customers out there who have challenged credit, no credit, bad credit, or even bankruptcy. That's really where we start to shine because we have the buying power of over thirty different lending institutions that offer us the ability to get you financed on a vehicle of your need. This is with little to money down. I don't want anyone to feel discouraged to come in thinking that you won't get approved, because we are able to do a lot of things that normal places cant. The other important advantage that we have, compared to other stores, is that we have over 800 vehicles for you to choose from. My sales staff is paid on a point system, not on commission, so we are all dedicated to help you find exactly what works best for you.
Bad Credit Auto Loan Approval!
855-971-6156
Here are a few of the banks we use to attain your financing;
If this wasn't enough, we are also aligned with C.U.D.L. or Credit Union Direct Lending.  Being affiliated with C.U.D.L. allows us to be able to secure financing with most of New Hampshire's credit unions as well.  This is a huge advantage of coming to the Key Auto Center of Somersworth for you automotive needs.  With 16 credit unions at our disposal, it opens the door even more for the consumer.  Especially if you are a member of these credit unions.  Many of these credit unions give special rates (lower rates) to their current members.  First time buyers typically get great rates as long as they meet certain criteria.  
Some of our more popular C.U.D.L. lenders are as follows;
There are a lot of commonly asked questions about bad credit auto loans, here are a few;

     
Q - Is it required that I put money down to get a bad credit auto loan?
     A - 
NO!!!
  Certain circumstances might make the bank require money down.  However, this is not always the case.  Putting money down towards a bad credit auto loan will almost always help the conditions, but is not always mandatory.  We can usually get around the customer having to put money down.  How do we do this?  Our relationships with the banks that provide the bad credit auto loans is very strong.  Another motivating factor for them is trade ins.  No matter how "rough" a trade in is, we can still take it off your hands and turn it into money for you and help secure your financing for a newer vehicle.  It can and will help the terms and conditions of the financing.  Money down can lower your interest rate (sometimes significantly), get a better (or longer) term, open up the ability to look at newer or nicer cars (dream car), and help you get the financing period.  
     Q - Is there a minimum income requirement to attain a bad credit auto loan?
     A - Yes and no.  Most lending institutions prefer that the borrower make a minimum of $1800 a month.  However, there are banks that do not have a minimum income.  Some banks require a minimum of $1300 a month provable income.  The key here is provable.  Not all lenders require you to prove your income.  In order to get you the best possible financing for your situation, proving your income can be important.  If you are a W2 employee this process is very easy.  All they are looking for is a copy of your most recent 

pay stub

 (within 30 days of application date).  That's it!!!!  If you are 1099 or self employed, they would be asking for a copy of your bank statements or tax returns.  The ability to prove your income can save you a significant amount of money in the form of a lower interest rate.
     Q - What should I bring into Key Auto Center of Somersworth when coming in to apply for a bad credit auto loan?
     A - Being prepared is very important.  Several documents that you can bring with you to the store can actually save you money.  When you can prove your income (pay stub), employment (phone number to HR or business), residence (utility, light, water, cable, oil bill etc.) and phone (cell phone bill) this lets the lending institution feel more comfortable with giving you financing.  Are all of these required for every person.....NO they are not, but can save you money in the form of a cheaper interest rate and save you time in the dealership.  We can get you approved before you ever walk through the door.  We do this everyday.  When you come in with the four aforementioned documents/phone numbers, it makes everyone's life easier and faster.  
     Q - Can you get me pre-approved before I come in?
     A - 
YES!!!!!!  
Simply fill out our online credit application now 
bad credit auto loan financing application
.  In the comments section please put 
Facebook 
and we will give you a call and go over all of your options with you.  We look forward to helping you get back on the path to good credit!!!